Butcher's Blocks™ were developed by SpaceAge Ceramics, LLC.
We've been manufacturing bandsaw guide blocks and thrust bearings using a patented process for over two decades.
Our specialized guide blocks for Butchering Operations have been installed on Biro and Butcher Boy meat bandsaws, with impressive results.
The key is our patented ceramic insert, which is similar in hardness to industrial diamond. The benefits include:
Blades run cooler. Customers tell us that blade life is extended as much as 40%, reducing downtime and increasing productivity and saving money on blades.
Our Butcher's Blocks™ Guide Blocks last considerably longer than conventional guide blocks, which in some applications must be replaced every few weeks. We have some customers who have installed our guides and they are still running over 2 years later.
The obvious benefit is reduced downtime and cost savings.
No metal particles are transfered to your products.
Contact us to discuss your operation and we can help you decide the right product for your needs.
This is a special order item.
Call 1-406-363-4949
Monday-Friday
9 am-5 pm Mountain Time.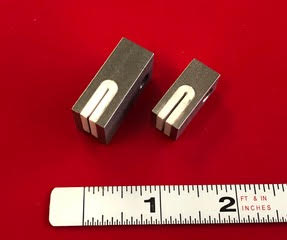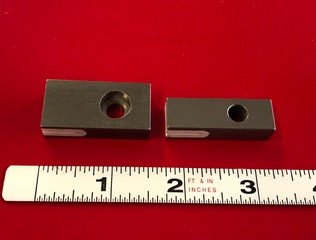 Our Ceramic Guide Blocks are designed to fit the Biro and Butcher Boy meat bandsaws.
These are commercial band saws used in grocery stores, meat markets, deer processing, and processing plants.